Whisperah is a current artist on Anatheria. She has been a member of Anatheria since the 13th January, 2007
and became an artist on her 14th birthday; the 8th of February, 2007. Whisperah, despite her short username, has many nicknames. These include but aren't limited to: Whisp, Whisper and that angry/mean/horse artist. But she's most commonly known as, Whispy.
Personal Information
Edit
Whisperah was born in Australia (Sydney), grew up in England (Weybridge), and

then returned highly spoken and classical. She grew up around dogs and horses, learning from experience and other trainers, as well as scholars and those less fortunate. Excelling at every scholarly subject, from the time she could hold a pencil she was writing and drawing with unmistakeable talent spurred from her artistic ancestors, and with her constant surrounding of dogs and horses he
r anatomical skills were surpassing others her age. However good things don't last, as from a hard life spawned a pessimistic, sarcastic, but highly likeable human being (though some have their doubts about the human part). Analytical to the world and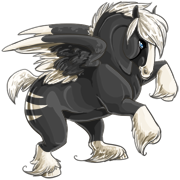 with a horrible accident happening at a young age to an intelligent child, Whisperah, at a premature age understood the horror and ruthlessness the world threw at her. Her art became her safe point, and discovering pet sites becam e a safe haven. She designed character after character, becoming fairly well known in her time for her roleplaying skills and character design - especially in regards to her character Koalvolt, an appaloosa stallion. Her belief in the macabre soul were points characters of the time lacked, drawing hers to stand out of the crowd with simplicity and humanity.
Her first attempt at becoming a petsite artist was rejected with uncalled for harshness. Stubborness drove her to improving and she then applied at Kenopets (now Anatheria). Upon being accepted has been improving since and still loves the site above any other, despite having worked previously for other more popular sites.
But she's still as stubborn as ever.