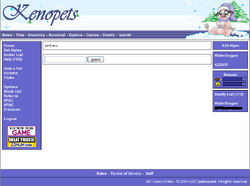 History Overview

Original Release

In 2004

Founders

Pyroneus, Zerkonia

Original Domain Name

kenopets.co.uk

Beta Testing of Anatheria

Began October, 2005

Anatheria Goes Public

January 23, 2008

Kenopets was Anatheria's original name. Many of the site's older players remember the name fondly (but we still love Anatheria!). Other than the name and site layout, not a whole lot noticebly changed. Well, any changes were gradual at least. Anatheria is still the same old great place that Kenopets always was! Kenopets was formed in 2004, and Anatheria was released on January 23, 2008.
Transition to Anatheria
Edit
"For quite some time the staff have been hard at work creating a cool, new website, and the premium users were allowed to log in for a first glance at seeing the features it offers and watch it develop overtime. I'm sure some of you have heard of it from some source or another. It is now being opened for beta testing for everyone...
Anatheria is a project that has been going on for quite some time. It's a Kenopets revamp, with a new name and a new layout. It also has updates of current Kenopets features, and new ones."
-- Zerkonia, in the Kenopets site news for January 23, 2008
"The first release of Anatheria was in October 2005, it was available to premium users and staff only until it was finally ready in 2008" - Pyroneus, commenting much later on when "Anatheria" was released.
As you can see, there was an extended Beta-testing period from October, 2005, until January, 2008, in which only Premium users and Kenopets Staff had access to Anatheria. Most regular users would not have known about Anatheria's existence, as it was kept mostly secret during this time. The news announcement in January, 2008, was the first public notification indicating Anatheria's existence.
Initially, some of Kenopets' features did not work on Anatheria (such as the Spring and Halloween layout themes), but most things were gradually transitioned over. Anatheria even had a few entirely new features of it's own at it's release! The Kenopets site was kept open for quite a while while things were being transferred over to the new site.
"So what new features have you found so far? Let me mention a few.
For a start, you can view other peoples clubs, which was a highly requested feature as you're all very nosey people. =P
If you create a thread on Anatheria, and someone replies to it using Anatheria, you receive an event to inform you. Just so you don't lose track of threads you've been creating. You can turn this off in the Forum Options.
News is arranged by week, and you can now look at backdated news. Just if you're curious to see what was previously released, or want to read comments on a news post from last week.
We also have a new island, and a revamped one. Do you know where they are?"
-- Zerkonia, discussing new site features that were exclusive to the new site Anatheria on a second site news post on January 23, 2008.
As a clarification, prior to Anatheria's release, you could only view your own club unless you were currently clubless.
On the two days following Anatheria's release, many pet species received revamps. The revamps were not updated on the Kenopets server. The revamps released on these days were:
Capistro revamp by Kurokitty
Cattus/Nira revamp by Art (this was also the day the cattus was renamed into the Nira)
Illidan revamp by Kurokitty
Monkmus revamp by InsaneCoffee
Ophidian revamp by Khronosabre
Ursa element revamps by gabsph
Vulpes element revamps by Whisperah
Xyion revamp by InsaneCoffee
Esper element revamps by sadexcuse4amango
Guanaco elements by Hanako
Waryll elements by InsaneCoffee
Zufinx elements by Khronosabre
There were also many avatar revamps released on January 26, 2008

On January 28, 2008, the Cattus was (officially) renamed to the Nira, games that were playable on Anatheria were removed from the Kenopets site, some missing head shot images were added (pet head shots were aa new feature to Anatheria), and the Plushie Collector avatars were made unlockable on Anatheria.
On the 29th, Kla released the results to the currently ongoing Kenopian Fanatic Art Competition, and the following day the name was officially changed to the Anatherian Fanatic Art Competition.
In February, there was even a site plot of sorts hosted by Dark, in which she spread clues around the site for us to follow to help find Khronosabre (who has mysteriously vanished). This was the very first of these site plots. Click to see the news post.
The official Kenopets/Anatheria News Post Announcing Anatheria's Release
The official Kenopets/Anatheria News Post announcing new features unique to Anatheria